Pro Mod Winner John Durden

The 2013 Pro Slammers Door Car Association season opener held last weekend at the AAA Auto Club Famoso was full of excitement and fun. During qualifying the Pro Mod Slammers were trying to make their mark in the class and put a damper on the rest of the field. Scot Oksas from Santa Clarita Ca., stopped the clocks at 258.91mph in 6.033 seconds to earn the #1 spot. With that pass Scott set a new class mph record with his 2010 twin turbo Mustang. He was followed by Randy Walker in his '74 nitrous assisted El Camino after he went 6.23 at 222mph, John Scialpi's blown '57 Chevy was # 3 when he ran a 6.26 @ 222mph, John Durden rolled in #4 with his Daryl Jensen owned '58 Corvette featuring a blown MBR 526ci Hemi at 6.40, Mike Doushgounian from San Martin, Ca. put his blown MBR Hemi, '67 Nova into the #5 spot with a 6.56 @ 208 and Lee Smith from Salem, Or. ran a 6.62 at 213 to land himself in the #6 spot with his '67 Mustang.
In round one, Mike D paired up against Randy Walker in a classic nitrous vs. blower matchup and it was Walker getting the win light as Mike D shook the earth in the little orange Nova. The next two to do battle was John Scialpi and John Durden. With these guys racing we knew two things, whoever won would be named John and he would have a blower. When it was all said and done John Durden was able to get the win after both drivers had to pedal their cars to the finish line. The final pair was supposed to be Lee Smith's blown '67 Mustang against Scott Oksas's '10 Mustang but Smith couldn't make the call handing Oksas a free run.
The semi-finals in Pro Mod Slammers had John Durden vs. Randy Walker and Scott Oksas on a competition bye. Randy Walker had made some good passes in qualifying with a 6.29, 6.29 and a 6.23 which was a major improvement for the team after struggling in 2012. Durden was in a new car and his best run was a 6.40, so he knew he had to step his game up. As the two left the starting line Walker's El Camino made a hard left towards the centerline and he tried to recover but Durden did a heck of a job driving through the tire shaking '58 Corvette for the win. Scott Oksas pulled up on the bye and unfortunately got crossed up around halftrack forcing him to abort the run and handing Durden lane choice. In the Finals, Durden told us that he was going to get out on Oksas and the turbo Mustang would have to run him down. And when the lights dropped Durden was out as the Mustang spun the tires and tried to catch him, but Oksas ran out of real-estate when Durden made a career best 6.37 pass to take the win.
In 6.90 Slammers, Tony Jurado in his Capitol Glass '69 Camaro landed himself in the #1 spot, followed by Tom Huggins '53 Corvette, then legendary racer/tuner Joe Lepone Jr. pulled in #3 with Darrol Hubbard's 70.5 world record setting Camaro and then it was Dan Myers blown '68 Camaro entry owned by Don carter to round off the field. In the first matchup between Tony Jurado and Dan Myers, the Capitol Glass team got him the win after Myers broke out on the fastest 6.90 Slammers pass in history at 5.85. Tom Huggins made a solo run when Joe Lepone Jr. couldn't make the call, which turned out to be a blessing after Huggins got crossed up around halftrack forcing him to abort the run. In the final, Huggins knew he had to step his game up after Jurado made a nice 6.99 run is the semi-finals. But, as fate would have it Jurado would start 2013 off the same way he started off 2012, in the winner's circle after he crossed the line first with a 7.00. We want to congratulate all both of the winners and runner ups and can't wait until our next event. Thanks to Andy McCoy Race Cars, Resolution Racing, Good Vibrations Motorsports, DXL Transport, Pro Cal Truck Equipment and Scrappers Racing for all of the support.



The Pro Slammers Door Car Association is pleased to announce the addition of Resolution Racing to the growing list of sponsors. Resolution Racing has been in service for years and has tuned many west coast Pro Modified teams to career best performances. Recognized as one of the best in the business and with tuning success from some of the world's top teams, they stay on the cutting edge of technology year after year.

Resolution carries a complete line of Rage Fuel Pumps and Enderle Fuel Injection parts in stock and ready to ship. They can also wet flow your complete blown alcohol fuel systems on their digitally controlled- Racepak Data equipped wet flow bench. They service Roots type superchargers and provide the most advanced performance modifications for both high and low overdrive applications. If it's a Screw type supercharger you're running they offer performance coatings, axial inserts, and all of the items in-line with that market. They also offer a full range of racing products and are dealers for most of the popular brands in the industry.

Aside from their tuning services and parts business they offer a wide range of quality used parts and race cars that can be seen on their website, http://www.resolutionracing.com/. Resolution Racing will support the Pro Slammers throughout the 2013 season and will also be at selected events for any of your needs. Whether you're looking to increase performance, baseline or refine your on-track tune up, you can count on Resolution Racing Services like you can count on the Pro Slammers, to always be there and provide nothing but the best.

Andy McCoy Race Cars stationed in Washington, Mo will be sponsoring the
Pro Slammers Door Car Association in 2013. The world famous chassis builder and supplier of performance components is proud to spread his wings on the west coast. Andy McCoy is responsible for some of the quickest ADRL and Pro Mod runs in the history of the sport. The association features some of the baddest 6.90 and Pro Mod/Pro Street style cars and is a perfect match as Andy McCoy builds some of the baddest Pro Mods in the country. Just look at his latest creation, the 69' Pro Mod Chevelle, which adds to a stable of wicked creations like the Pro Mod Dodge Duster. The Pro Mod Slammers class will host all types of makes and models that feature turbos, blown, naturally aspirated and nitrous oxide entries. Adding to the excitement are some of the best drivers in pro street style competition at each event.
It's companies like Andy McCoy Race Cars that help keep the sport of drag racing alive and well. So, if you are in need of performance parts, a new chassis, a new body or just need some expert technical advice, then give them a call or visit www.andymccoyracecars.com. The Pro Slammers season kicks off at the AAA Auto Club Famoso on March 23-24th in conjunction with the West Coast Hot Rod Association series.

The Pro Slammers Door Car Association is proud to announce the return to the AAA Auto Club Famoso Raceway. This will be in conjunction with three of the West Coast Hot Rod Association's events. Located in McFarland Ca., Famoso Raceway is known as the best track on the west coast with its all concrete surface. The track is ran by Bowser family and they use some of the best prep equipment around, so don't be surprised if you see local Pro teams use it for testing. Even our Pro Slammers series sponsor, Mike Salinas and his Scrappers Racing NHRA Top Fuel Dragster use this facility to prepare for NHRA National Events. We are very glad to give our members the opportunity to see what their cars can really do at a track of this caliper. We thank Tim Rigby and Danny Topol for allowing us to join their West Coast Hot Rod Association at these events and look forward to a lasting relationship with them. The complete 2013 schedule can be found on the on the events page so check it out and we hope to see you at the races.
The Good Vibes Are Back For 2013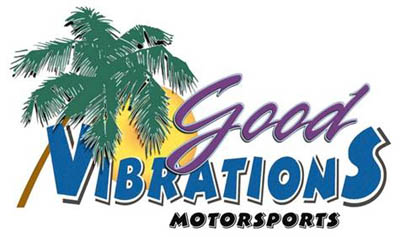 Good Vibrations Motorsports are back on board with the Pro Slammers Door Car Association for 2013. You source for high performance new and pre-owned parts, safety equipment and race car accessories. Got Questions? Just give Jim or any of his staff members a car and they will be more than happy to help you.
(800) 576-7661